More Description
This is a customized cyan arc food trailer, the whole vehicle is made of fiberglass, and all the internal equipment is made of food-grade stainless steel. The service window of this arc food trailer adopts a sliding window design, Inside the trailer, it's equipped with a coffee machine, a water dispenser. The whole vehicle is 2.8m long and due to the small model so it's the preferred model for starting fast-food businesses.
This trailer consists of chassis, body, flooring, working table, water system, electric system. Users also can choose the color they want. We would like to purchase other types of equipment based on customers' needs.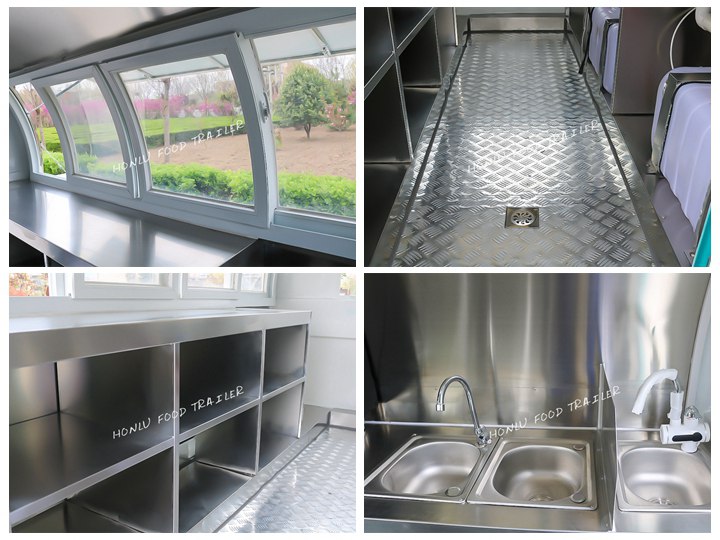 In the United States, according to the department of health, sliding windows have become a necessity in some food trailers. It keeps dust out and keeps the temperature. Moreover, it has a better experience when using air conditioning.

According to customer needs, we have equipped customers with customized three sinks, and all the internal equipment is made of stainless steel.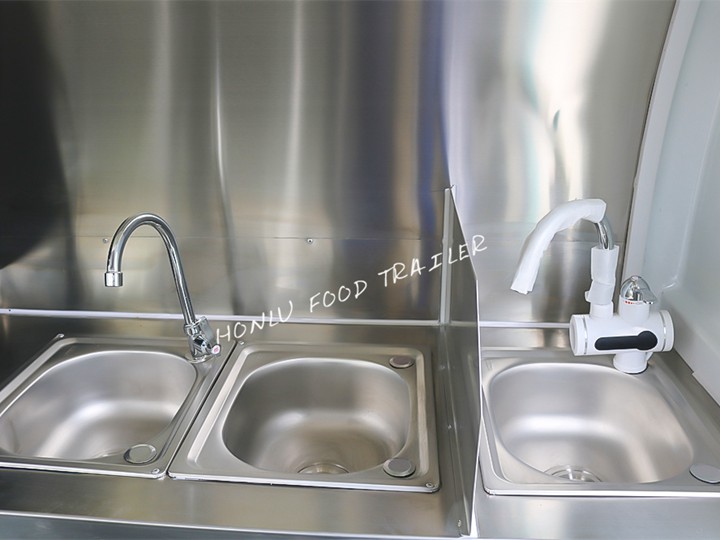 Generally speaking, many customers will cook some cooking food in the dining car, so we will equip customers with range hood equipment. But our customers want to do some beverage business locally, and we have equipped them with coffee machines and water dispensers according to customer needs.

The whole trailer is compact and easy to use. It is the preferred model for starting fast food businesses, shopping mall bulk purchase orders, street fast food unified management, and family picnics. It also can be applied for selling anything from hot dogs, retail operations, flower operations, sandwiches, coffee, ice cream, etc. We have CE certified to help you to start a mobile business.
Main Features of the mobile food trailer
Fashionable appearance, appearance custom stickers, which is attractive;
Fiberglass material, lighter in weight and higher in strength, with advantages of corrosion resistance, insulation, heat preservation, sound insulation, etc;
Modern and advanced accessories equipped in the mobile food cart;
Convenient and easy to move;
Customized sliding windows to meet customer needs;
We are pleased to modify it according to your requirement.
Free 2D/3D floor plan drawing
After confirming the dimensions of the food trailer and the internal kitchen equipment, we can provide you with 3D drawings for free. This will give you a clearer idea of your design and your food cart. When confirming the location of kitchen equipment, we can clearly communicate with you through the floor plan. We can also provide you with original documents to facilitate your design and make adjustments.