Detailed Description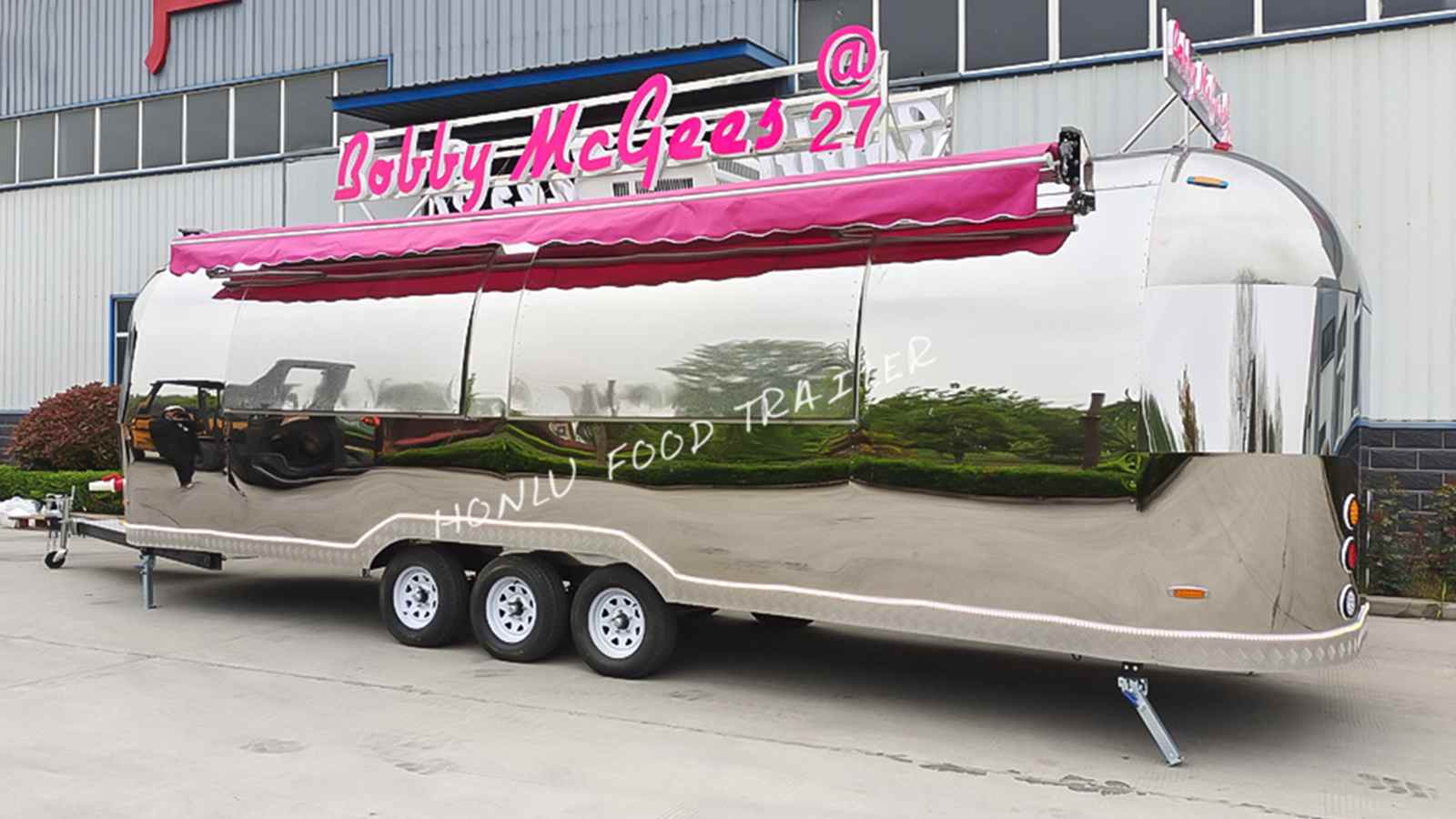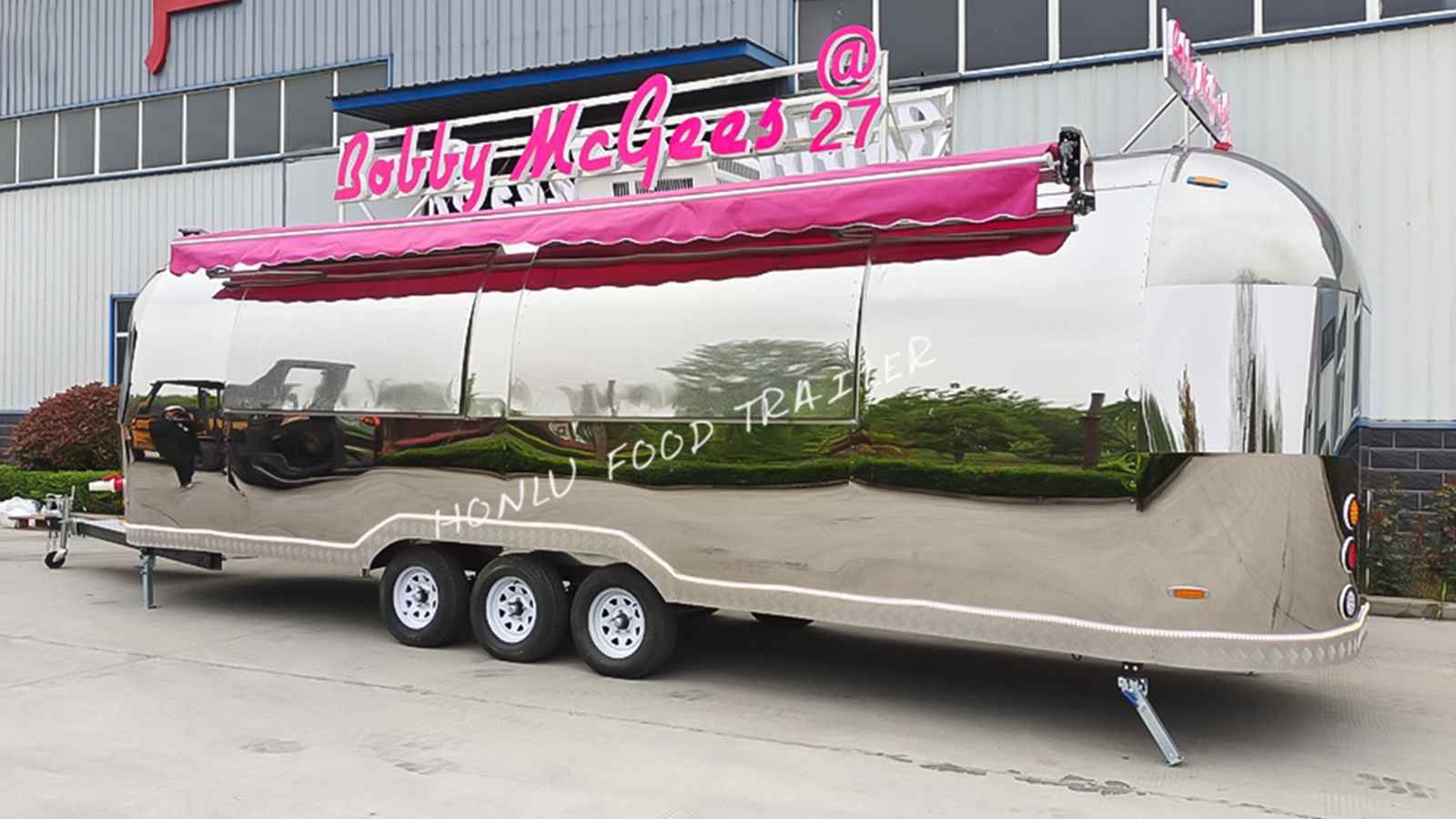 This is our customized stainless steel food trailer, the whole body and interior equipment are made of stainless steel. According to customer needs, we customized the top billboard on three sides, kitchen equipment, and adopted a different back door design from other food trailers. The front service window is designed with two separate sliding windows and is equipped with a sunshade awning above. During the production of this trailer, the customer proposed many special design ideas, and we all provided them with graphic design drawings and implemented them one by one.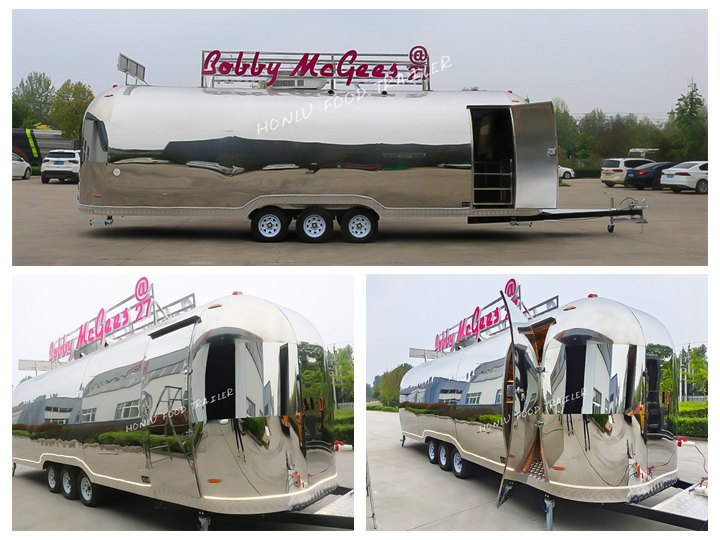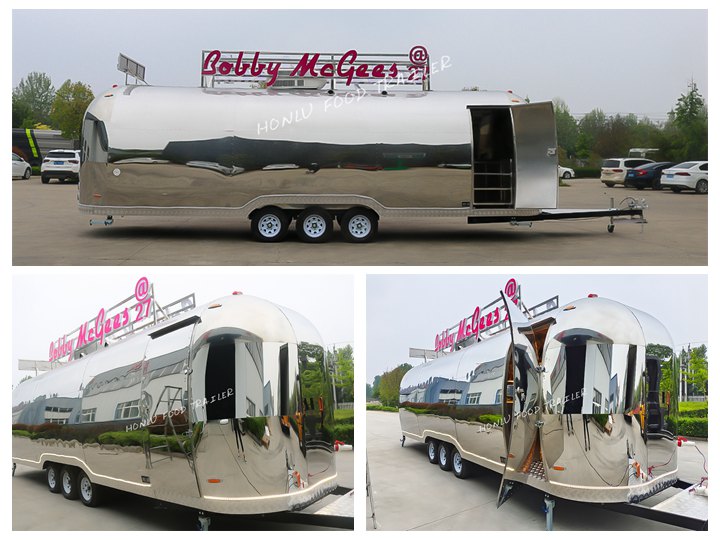 The exterior of the body is made of stainless steel. The stainless steel mirror body can effectively prolong the service life of the trailer. Three billboards are customized on the exterior of the body, and light-emitting lamps are also added around the body.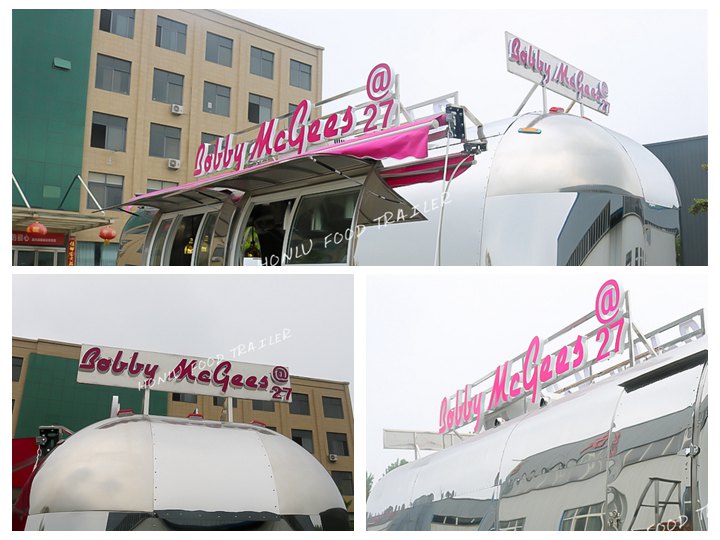 The whole vehicle is eight meters long, so a lot of kitchen equipment has been customized inside, including gas stoves, deep fryers, barbecue grills, etc. The interior equipment of the body is made of stainless steel.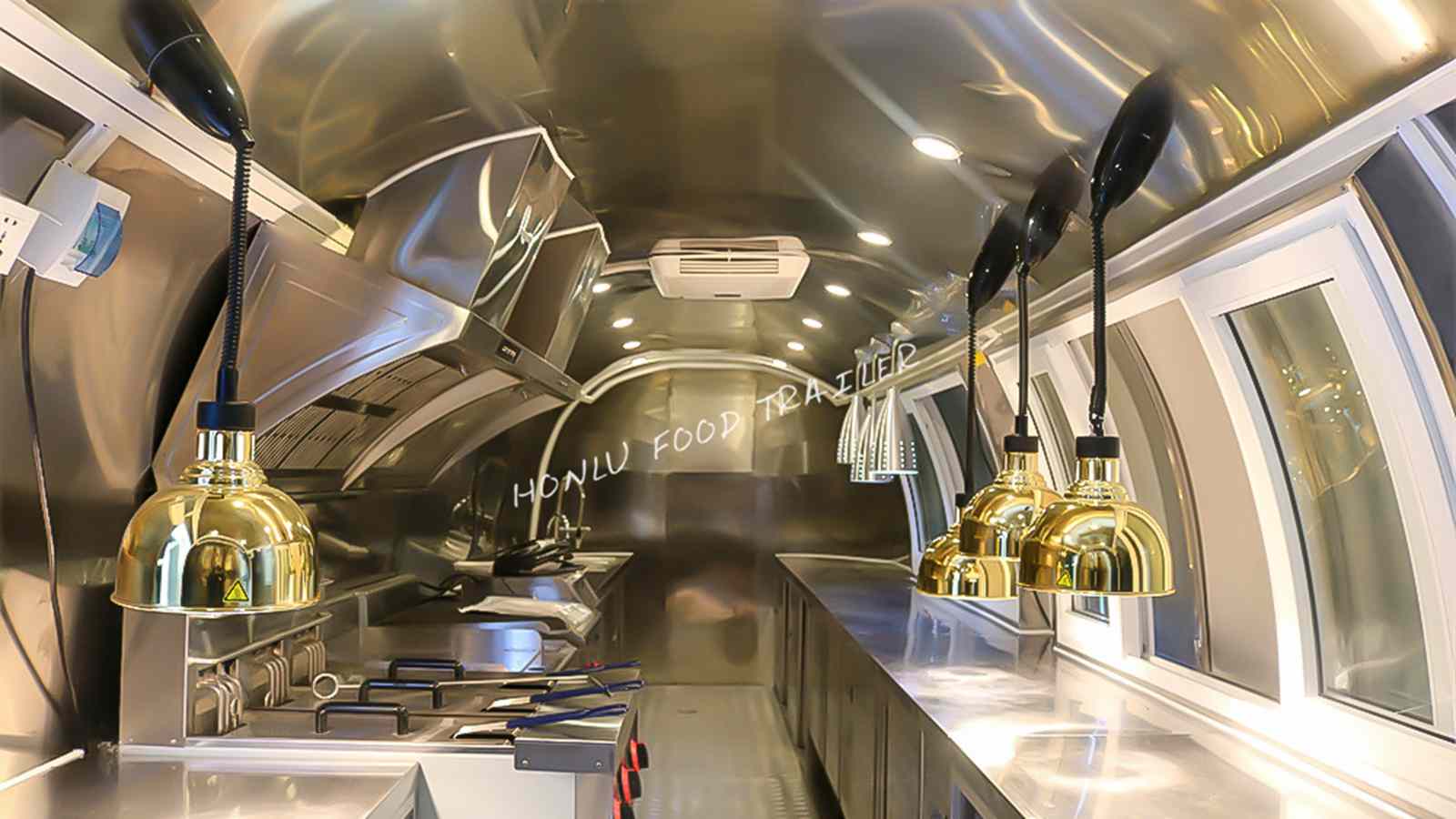 Based on these kitchen equipments, we customized high-power range hood equipment for customers to ensure a good environment in the car.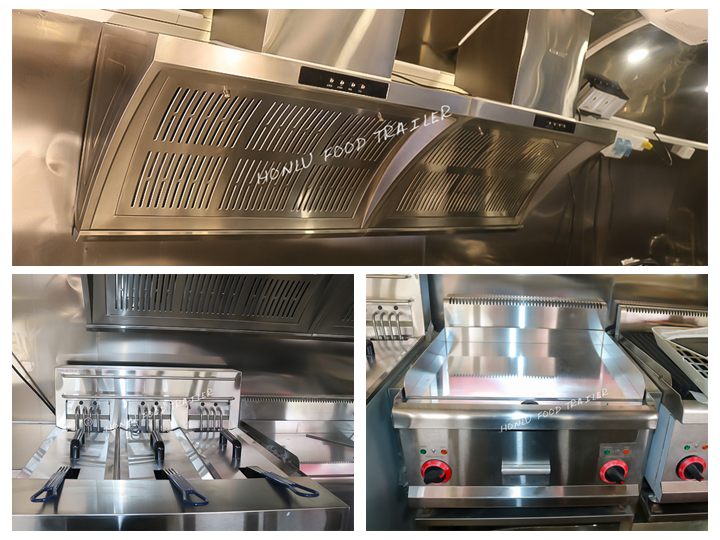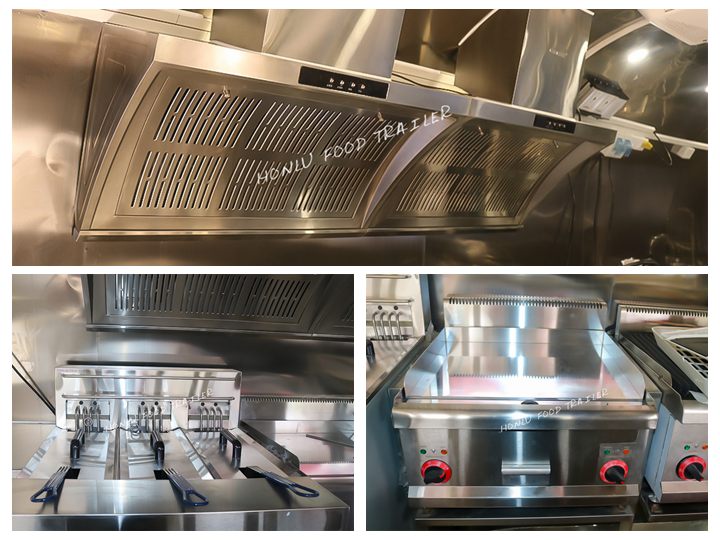 Two different ambient spotlights are installed inside the car body according to the customer's requirements, and with the light-emitting lamps outside the car body, the trailer can have a very beautiful view even at night.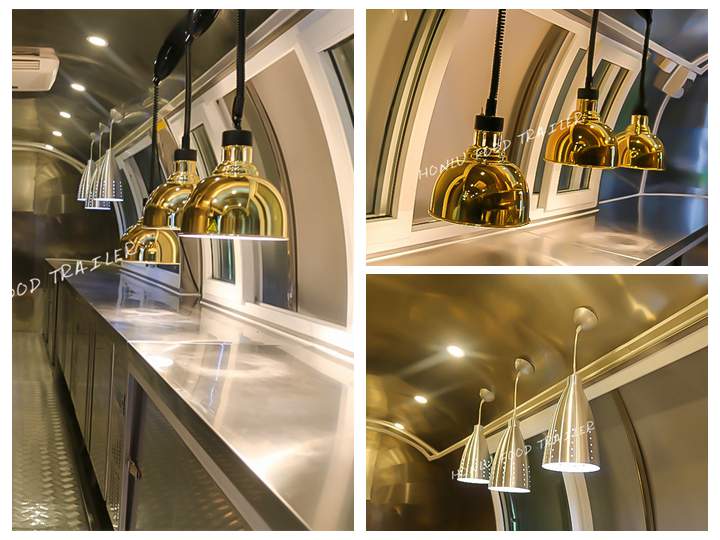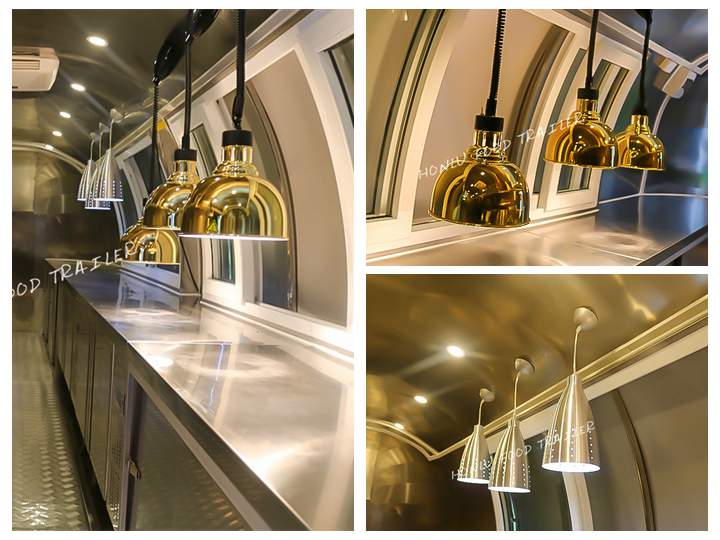 The whole trailer is compact and easy to use. It is the preferred model for starting fast food businesses, shopping mall bulk purchase orders, street fast food unified management, and family picnics. It also can be applied for selling anything from hot dogs, retail operations, flower operations, sandwiches, coffee, ice cream, etc. We have CE certified to help you to start a mobile business.
Main Features of the stainless steel food trailer
The super-long car body has a larger internal space and can accommodate more equipment to meet the various needs of customers;
Stainless steel trailer body & internal structure, Lighter body and longer service life;
Fire-resistant, heat-resistant and corrosion-resistant.
Modern and advanced accessories equipped in the mobile food trailer;
Convenient and easy to move;
We are pleased to modify it according to your requirement.
Free 2D/3D floor plan drawing
After confirming the dimensions of the food trailer and the internal kitchen equipment, we can provide you with 3D drawings for free. This will give you a clearer idea of your design and your food cart. When confirming the location of kitchen equipment, we can clearly communicate with you through the floor plan. We can also provide you with original documents to facilitate your design and make adjustments.