More Description
This is a customized single-deck coffee trailer, the body and interior are made of stainless steel. The platforms on both sides can be lowered, which can be used to place some tables and chairs, publicity boards, food racks, etc. Due to its special design, it is very suitable for selling some food such as coffee, burgers, hot dogs, sandwiches, etc.  The whole trailer is compact and easy to use. It is the preferred model for starting fast food businesses.
The exterior structure of the single-deck coffee trailer
The biggest feature of the whole trailer is the liftable business platform on both sides, which can have different uses for different businesses. It can not only be used to place some tables and chairs to facilitate customers to sit, but also can be used to place some menu racks and business promotion display boards. At some events, the double liftable platforms can help you attract more customers.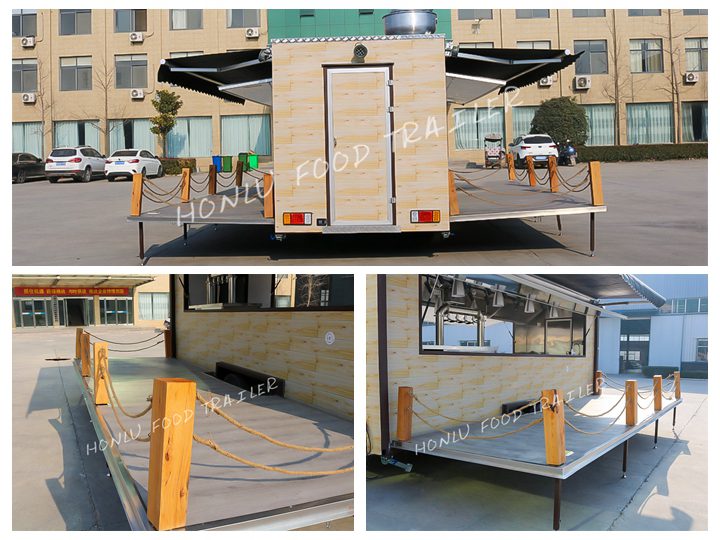 There is a retractable canopy above the business platforms, surrounded by a fence composed of stakes and ropes, which is very easy to remove and install. The trailer body has a very beautiful wood grain sticker, and the trailer is equipped with jacks at all four corners.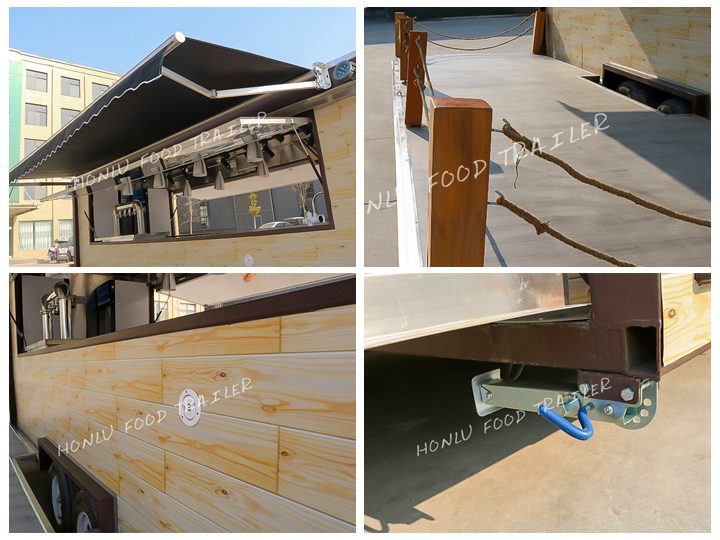 The interior of the single-deck coffee trailer
The work surface, storage compartment, sinks are all made of stainless steel. The top is equipped with atmosphere lights and sliding spotlights, and it has a very beautiful night view.

According to the customer's local department requirements, the sinks and buckets are three-sink design-two food washing basins and one hand washing basin. According to customer needs, the faucet is equipped with a water heater and a soap dispenser, and there are two large-capacity buckets under the sink, one clean bucket and one waste bucket.
Our customers want to do some fried food business later, Therefore, according to customer needs, it is equipped with gas pipelines and range hoods that meet local requirements.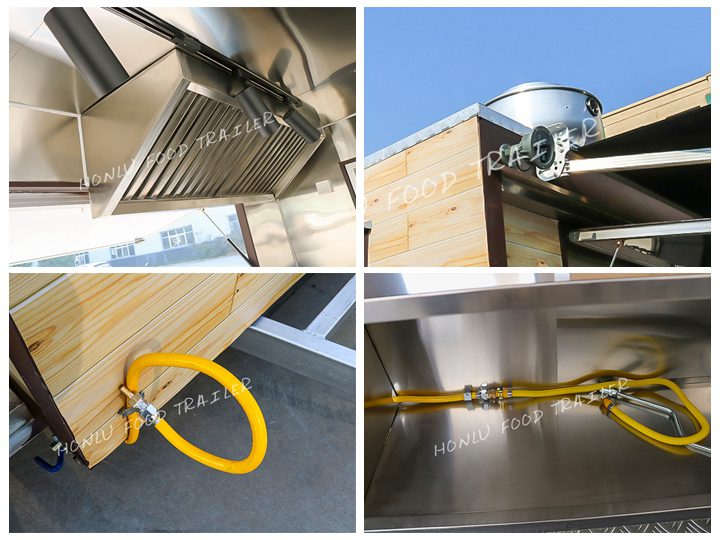 There are two freezers in the innermost part of the coffee trailer, and according to the customer's business needs, we customize the food-grade stainless steel beer machine for the customer.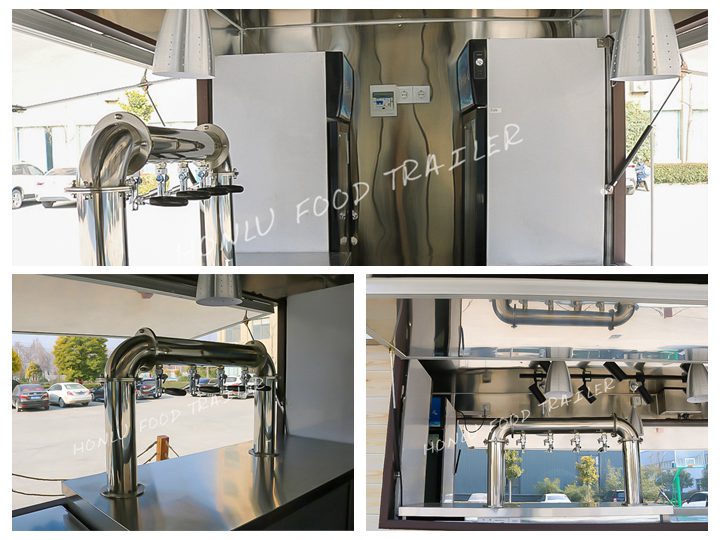 Main Features of the single-deck coffee trailer
Fashionable appearance can be customized;
Multifunctional liftable platforms on both sides;
Stainless steel trailer body& internal structure, good heat resistance, wear resistance, corrosion resistance;
Modern and advanced accessories equipped in the coffee trailer;
We are pleased to modify the whole trailer according to the customer's requirements.
Free 2D/3D floor plan drawing
After confirming the dimensions of the food trailer and the internal kitchen equipment, we can provide you with 3D drawings for free. This will give you a clearer idea of your design and your food cart. When confirming the location of kitchen equipment, we can clearly communicate with you through the floor plan. We can also provide you with original documents to facilitate your design and make adjustments.